Get Rid of Large Birds with Polycarbonate Bird Spikes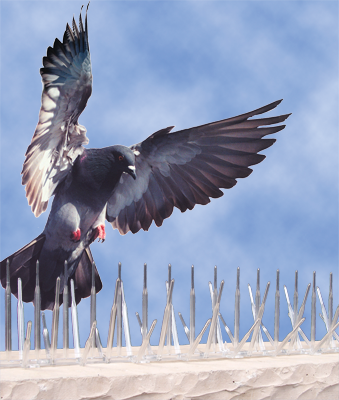 Larger birds, like pigeons, seagulls and crows land in areas where they are not wanted, creating a mess and an unsanitary environment. Taking care of bird issues when they arise is pertinent to ensuring you avoid unnecessary costs and potential health and legal issues. Birds sitting and roosting on a ledge or other flat surface will require a physical bird deterrent to get rid of pest birds. Polycarbonate bird spikes work well to keep birds away by creating an uneven surface, making it impossible for birds to land in the treated area.
Polycarbonate bird spikes work on areas like beams, ledges, under eaves, rooftops and other flat or curved surfaces. Choose from seven colors: clear, white, tan, grey, brown, black and brick red. Plastic spikes are available in different spike widths: 3", 5" and 7" to cover different ledge and surface widths. Since the spikes come pre-assembled in two foot strips with pre-drilled holes along the base, installation is fast and easy – cutting time to install in half. Plastic spikes can be glued or screwed to most surfaces.
Bird-B-Gone polycarbonate spikes are manufactured in the USA and carry a five year guarantee.