Geese Invade NIU Campus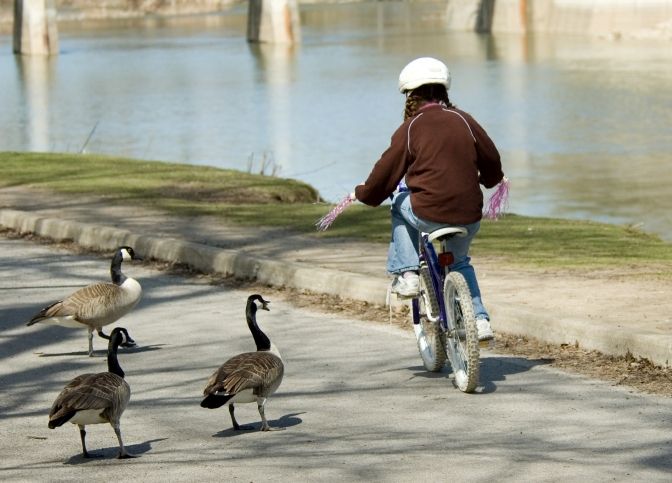 Northern Illinois University has been invaded by geese. The fearless birds seem to be everywhere on campus, walking on the sidewalk outside DuSable, paying no mind to buses and cars, picking at trash on the ground–the problems are almost too numerous to mention.
The geese return to NIU every year. One goose, known as Boris, after having settled near the Chick Evans Field House, would chase, bite and squawk at all passersby. The geese also cause dangerous traffic situations. The large birds routinely take over crosswalks, stopping buses, cars and motorcycles, causing near collisions. Nesting on residence hall roofs, taking up sidewalks and crosswalks, these geese have literally taken over the campus.
Canada geese are big–they can weigh up to 24 lbs.—and also quite aggressive, chasing students and pets with an annoying "honking" noise. In flight, geese can reach speeds up to 50 mph, so they can injure people who don't duck out of their way. Since they are territorial birds, they will protect their nest and eggs from a human or pet.
Goose droppings can carry diseases, including histoplasmosis, toxoplasmosis and giardia. The parasite larvae crawl onto the skin and burrow under it, creating a red itchy rash.
To keep geese off campus, you'll need some serious goose deterrents. Banging pots, shooting BB guns and leaving poisons are ineffective and dangerous. Fortunately, there are several deterrents that are both humane and effective.
Super Sonic Goose Deterrent
Broadcasting pre-recorded goose distress calls to deter geese from outdoor areas, Super Sonic Goose Deterrents feature a built-in speaker that covers up to an acre of land. These sounds are repeated every ten minutes to warn geese of impending danger. When geese hear these calls, their natural instinct is to leave the area. You can add more speakers to cover larger areas. The best sonic deterrents can be programmed to shut off automatically at night. Incidentally, ultrasonic deterrent devices are ineffective, since geese can't hear these high frequency sounds.
Goose Repellent
Geese love to nibble on shrubs and lawns. Goose Repellent makes grass areas and shrubs inedible to geese. The liquid repellent is non toxic and safe to use around people and pets. It uses a non-toxic grape extract (Methyl Anthranilate) that irritates a goose's trigeminal nerves and mucous membranes. One gallon of Goose Repellent covers approximately 16,000 square feet and lasts three months. It can be applied with any simple hand held sprayer.
Scarecrows
These motion-activated sprinklers hit geese with a "Hello" but harmless blast of water whenever the birds wander into their radius of protection. The combination of water spray, startling sound and realistic looking bird head convince even the most stubborn geese to disperse and avoid the area. Scarecrows are easily connected to any garden hose, and their sensitivity and blast radius are easily adjusted to suit the specific venue. Scarecrows typically cover an area of about 1,200 square feet (35-foot by 45-foot wide). And you can get up to 1,000 "firings" on a single 9-volt battery.